Dina Juve
Qualifications:
Dina Juve spent her younger years overweight. At age 6 she was diagnosed with juvenile arthritis and spent years being inactive. At the age of 21 she finally took charge, changed her life, and started her journey to become educated on healthy living.

In the last 20 years, Dina has lost over 80 pounds and has been successful in keeping it off. Dina has also worked through several medical issues in her life and suffers from arthritis, spinal stenosis, and an autoimmune disease, so she knows the importance of living a healthy lifestyle, preventing injuries, and training safely. Although it is an on-going battle, her diagnoses do not keep her from living a fit and healthy lifestyle. Working out and eating foods that nourishes her body helps her manage her health better than any medication ever has. Kettlebells, TRX, Barre, and Z-Health Mobility have also helped decrease her joint and back pain as well.

To find the workouts that deliver the best results in the least amount of time, Dina has trained with some of the top instructors around the world. She seeks out the top fitness tools in the industry to maximize fast results. The workouts she selects for herself and her clients provide fast results; both in weight loss and providing a quick lean out.

Dina's clients see quick results using Kettlebells, TRX, Barre, Ropes, and additional tools she personally selects that have proven to maximize results. She can now usually get her clients results within 2 weeks, compared to the traditional 6 weeks when she used to train with traditional weights. The inches and weight just fall off if her clients are committed and consistent.

Dina continues to test all the workout tools she endorses and the weight loss plans she designs to make sure they deliver real results without pills, artificial sweeteners, and processed foods. The results have been amazing! She has helped hundreds of people achieve the body they desire. Because everyone is unique and responds differently to workouts and nutrition, Dina loves helping clients figure out ways to quickly transform those challenging bodies.

Dina attended several workshops the past year with Deepak Chopra at The Chopra Center and is now enrolled at Chopra University to become a Perfect Health Ayurveda Instructor.

Dina lives with her husband, 3 boys, and niece in Fresno CA. In her spare time she loves spending time with her family, researching fitness and nutrition, and hiking. In 2011 she hiked Mt Agassiz at 13,891. Mt. Agassiz is respectfully one of the tallest peaks in the Sierras. It is the twentieth tallest peak in California. She is currently looking for her next hiking challenge.


‣ 12 Years Experience in Fitness and Nutrition
‣ Co-Owner of FitnessSocial Studio
‣ Owner of Kettlebells of Fresno
‣ StrongFirst Kettlebell Certified
‣ Kettlebell Institute Certified & Assistant Instructor
‣ Former RKC Russian Kettlebell Certified
‣ Selected to Assist at RKC Russian Kettlebell Certification
‣ Movement Code Certified
‣ TRX Certified Trainer
‣ Battling Ropes Coach
‣ Barre Instructor
‣ Z-Health Essentials Course
‣ Weight Loss Specialist
‣ Creator of Lean Out Cleanse, Slim Down & Summer Body Weight Loss Program by Dina Juve
‣ HiS Magazine Fitness Writer
‣ Featured on KSEE 24 News for Kettlebells & TRX
‣ Currently attending Deepak Chopra University to become Perfect Health Ayurveda Certified
‣ Ambassador for lululemon athletica


Melissa Oberti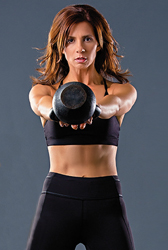 Melissa is always looking for the latest and best of everything to try or be a part of and when it comes to health and fitness, she has found it! After taking a few years off from a steady exercise routine to raise her two children, Melissa had a desire to train for the Women's Nike Marathon in San Francisco. Although the marathon was on her bucket list, she also wanted to get back into shape and saw this as a win-win for both goals. Through the amazing help of Team in Training and after five long months of training, she completed her first marathon. Thrilled with her marathon results, but disappointed with her overall body results, Melissa heard about kettlebells and took her first class with RKC Certified Russian Kettlebell Instructor Dina Juve in the fall of 2010. Due to the fact that she could get both cardio and strength training done in one 45 minute class and burn close to 900 calories per class, she instantly fell in love with kettlebells. Not being one to stick to "group" classes, she soon found herself "addicted" to Kettlebells after seeing how quickly she could reach her goals and actually see the results in her body…..results she never saw during her five months of marathon training.
After realizing the need to offer Kettlebells, TRX and the latest health and fitness information in a motivating and supportive environment, Melissa and Dina launched FitnessSocial to help others quickly obtain the results they want and to stay up to date with the latest in the industry. Come by FitnessSocial Studio and see why Melissa became addicted to Kettlebells and try the Kettlebell/TRX Combo class……..one of her "favorite" classes.
In her spare time, Melissa enjoys spending time with her children, watching her son run high school cross country and track and her daughter perform in various theater performances.